Home
»
Apple
»
Apple iPad 2 Wi-Fi 3G 16GB
»
Reviews
Apple iPad 2 Wi-Fi 3G 16GB Review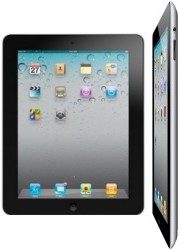 The first thing you notice about the new iPad 2 is that its noticeably thinner than the original iPad, it's actually even slightly thinner than the iPhone 4. However its still very comfortable to hold and use. Its also lighter than the original at just 601g compared to the 680g original model. Despite the lighter weight it is still fairly heavy for long term one handed use compared to other devices like the Samsung Galaxy Tab which weighs only 384g. That being said,its difficult to see how Apple could reduce the weight without sacrificing quality and battery life. The weight is largely due to the superior and sturdy rigid aluminium construction and the practical 6930 mAh battery. That 6930 mAh battery has performed incredibly well in reviews and tests, lasting over 17 hours during fairly heavy usage. This long battery life currently trounces any rival tablet or netbook seen so far.

The display is largely unchanged from the original iPad, in itself this is no bad thing with its super bright 1024 x 768 pixel resolution, but those who have become familiar with the iPhone 4 Retina Display may be slightly disappointed. However, it is still definitely one of the best screens seen on any tablet device in use today and compares very well with other devices like the Motorola Xoom and the Samsung Galaxy Tab.

Internally, the heart of the iPad has been upgraded to include twice the RAM of the original (512MB), a fast 200-MHz bus, and of course the new "dual core" A5 processor. The RAM on the iPad 2 is still only around half that available on some Android models, but Apple has long held an advantage in both hardware and operating system manufacturering and seem to be able to work their magic well with this device despite an apparent deficit.

The iPad 2 features front and rear-facing cameras, with 720 pixel HD resolution and up to 30 frames per second from the main camera and VGA 640 by 480 pixel resolution from the front-facing camera. The iPad also has 65,000-plus apps available that are optimized for its superior large screen (compared to Google's Android tablet apps which number only in the hundreds).

If you are in the market today for a tablet device, the iPad 2 remains the class leader. It's not quite perfect, but certainly good enough to show all the competitors a clean pair of heels. Like the previous iPad, the iPad 2 is comfortably the leader of the pack. Whether Apple can hold on to the tablet device crown is hard to say however, with many competitors making inroads into iPad territory.

| | |
| --- | --- |
| | |
Submit Your Own Review!