Home
»
Alcatel
»
Alcatel OT-810 silver
»
Reviews
Alcatel OT-810 silver Review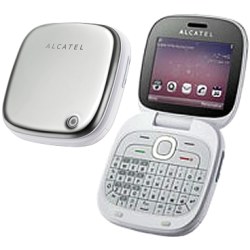 If you didn't already realise that the Alcatel OT-810 is aimed at a teenage girl audience, the fact that Carphone Warehouse is offering the phone with a redeemable voucher for Barry M lip-gloss should enlighten you. It's not an expensive handset either, so it could be an ideal choice as a gift for teenage daughters or nieces. This hone has a cutesy design that sets it apart from the competitors, even though its a clamshell design, its not like any clamshell phone you have seen before! It looks much like a blusher case or other item found in a make up bag. When closed, the front of the phone has a mirrored finish with a 2.0 megapixel camera lens in one corner. Flip open the phone to reveal a QWERTY keyboard surrounded by glossy plastic. There is a unique LED matrix hidden behind the mirrored finish on the front which lights up to indicate alerts and different symbols. For instance, when the phone on charge it displays a battery icon being filled up with juice and unread text messages display as unopened envelopes with a question mark. It's a neat touch, especially on such a cheap handset, which no doubt many will find appealing.

The OT-810 has a standard microUSB jack that can be used for charging the phone or syncing it with a PC or laptop to transfer music, photos and other files. Under the rear cover you find the battery and underneath the microSD card slot. This phone only has 50MB of memory onboard, so you really have to use a microSD card for storage, there is none supplied in the box, understandable given the low price tag. But cards of up to 16GB are supported and available online for less than a tenner.

The screen is a decent size and has a resolution of 320x240 pixels. But it's not a touchscreen so you navigate the phone menus using the four way navigation button and the two soft keys underneath. The screen is bright enough with rich, deep colours, and is especially good by budget phone standards. The full full Qwerty keyboard allows heavy duty messaging and social networking, and Alcatel has placed common used punctuation marks on their own dedicated keys rather than forcing you to use the Alt button to access them every time. In general, the user interface on the OT-810 is intuitive and simple, the main screen shows the time, date, signal level and icons for unread emails or text messages, along with a row of five customisable shortcuts or widgets across the bottom of the screen.

This cute handset from Alcatel really stands out from the crowd thanks to that unique clamshell design. It has a good screen and great keyboard, easy to use menu system and user interface, along with some great social networking features. In this price bracket, the Alcatel OT-810 is one of the better handsets around at the moment and has a unique appeal in terms of design.

| | |
| --- | --- |
| | |
Submit Your Own Review!