Home
»
3 Mobile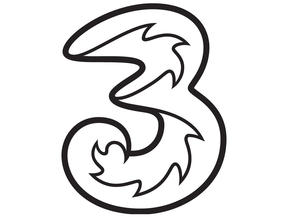 Three Mobile is one of the UK leading and best known mobile networks. Know for exclusive 3G deals on great handsets they have been offering some of the cheapest mobile deals on 3G phones since day one. Three has seen a massive growth in customers in the last few years and now have around 8.2 million users. Three growth seem to be linked with 3G becoming in high demand on new Smartphone's as well as there competitive pricing strategy. Three have kept their pay monthly cost low to attract more customer and s to take a bigger percent of the mobile phone market. This plan of cheap pay monthly phone contract has worked for three mobile as they have seen a growth of 18% in the last few years.
Three Mobile Contract Plans and Tariffs
The One Plan

Unlimited data
2000 standard minutes
5000 Three to Three minutes
5000 texts
Free tethering

Essential Internet 100

250mb data
100 standard minutes
5000 texts
Additional tethering available

Essential Internet 300

250mb data
300 standard minutes
5000 texts
Additional tethering available

Essential Internet 500

250mb data
500 standard minutes
5000 texts
Additional tethering availabl

Ultimate Internet 100

Unlimited data
100 standard minutes
5000 texts
Additional tethering available

Ultimate Internet 300

Unlimited data
300 standard minutes
5000 texts
Additional tethering available

Ultimate Internet 500

Unlimited data
500 standard minutes
5000 texts
Additional tethering available

Ultimate Internet 1000

Unlimited data
1000 standard minutes
5000 texts
Additional tethering available

Ultimate Internet 2000

Unlimited data
2000 standard minutes
5000 texts
Additional tethering available
The most popular offering from Three has to be the One Plan. This includes 2,000 call minutes, 5,000 free texts and (literally) "all you can eat data". it doesnt matter how many TV shows you watch, or online games you play or how much streaming music you listen to, there is no need to pay more. The One Plan is aimed at smartphone users that need plenty of call minutes, texts and free Internet access. This is very much a ground breaking tariff that it caters for pretty much everything a smartphone user will require, all wrapped up in a SIM only deal for just £25 per month! A truly unlimited data transfer plan is an unprecedented step, especially when many other mobile operators have been scaling back and limiting their data allowances. The 3 network are clearly confident in their capable 3G network and feel they can withstand data hungry customers offering all you can eat data. If you are a smart phone user that requires high levels of talk, text and data access then The One Plan from 3 is probably the best value plan available, with the added benefit of the flexibility of a 30 day rolling contract.

The Talk 900 plan from Three offers the best value if you want to balance the need to call and text. It's flexible so you can use your inclusive minutes as texts (or vice versa) whenever you want. The plan includes any combination of 900 mins/texts with an Internet allowance of 1GB from just £15 per month.
Three Mobile offers
perhaps the most tempting offer from 3 right now is on the iPhone 4S (16Gb model), you can get this amazing smartphone on an all you can eat internet tariff for just £36 per month with just £69 up front for the handset!
Three Mobile Network Mobile Coverage

3G stands for Third Generation and the big advantage of a 3G network is being able to use the internet at high speed wherever you are. With many people today switching to smartphones with email and internet on the go, 3G has never been more relevant. The 3G mobile network from 3 opens up a new way of connecting to the internet for people with mobiles, laptops and tablets. Instead of being tied to a broadband connection at home or having to find a Wi-Fi hotspot, you can get online whenever you want using broadband on the 3G network. of course, as these services become more popular, more "space" or bandwidth is required from the network, that's why 3 are always working to improve their 3G networks, building more masts and base stations, for better coverage and signal strength. Today their 3G network offers 2G coverage for 99% of the population, with 3G coverage at 93%. In fact, a staggering 44% of the UK's mobile data now goes through the 3 mobile network making them officially the UK's fastest-growing mobile network! 3 remain committed to improving communication and are currently working on higher quality voice calls (HD Voice) and faster mobile internet services via the newest 4th Generation network (4G).

Right now, HSPA+ (High Speed Packet Access Plus) is the next generation in 3G technology. Allowing the existing 3G infrastructure to deliver faster speeds (up to 40% faster), as manufacturers continue to develop more and more HSPA+ devices there will be more options for Three customers to benefit from this extra speed and they're currently rolling out this HSPA+ technology across the UK with 80% of the network to be completed in 2012. 3 have set some pretty ambitious targets for network improvements this year, a faster 3G HSPA+ network with speeds up to 42.2Mbps, an additional 3,000 masts to our network, and 98.5% outdoor 3G coverage in the UK.



Three Mobile Upgrades

The good news with 3 is that you don't need to wait till your contract's up to get your hands on the latest smartphone. With Three, you can actually upgrade at any time. So, if you are you bored with your handset and want to take advantage of the latest mobile phone features available, then there is nothing stopping you upgrading early on Three! Of course you'll need to pay an early upgrade fee if you have more than one month left on your existing contract. But the upgrade process is simple and 3 will also recycle your old phone for you if you wish. With Three you can get your hands on one of the latest smartphones, whenever you want it!
The Thre
e Mobile Network History

The 3 mobile network was launched in the UK back in the 3rd of March 2003 (3/3/3). The focus from the beginning has been on the implementation of 3G technology 3 began aggressively with one of the fastest 3G rollouts in UK history. 3 went live with HSDPA technology in 2008 and they currently maintain the highest level of national 3G coverage in the UK. Not just a mobile network, they have operated a chain of high street retail outlets (3Store) for almost 10 years and they offer both PAYG and contract services directly to the public. 3 is owned by Hutchinson Whampoa (who previously owned Orange) and today in the UK have over 3.5 million customers. 3 consistently receive high ratings from consumers in terms of customer satisfaction, partly due to excellent coverage, partly their unlimited data offer, and of course higher than average standards of customer service. However, they do operate call centres are in India and this has lead to users reporting difficulties.



Three Mobile Network Awards

Three have been rated the No.1 mobile network for internet connectivity, speed and reliability by iPhone customers. Figures from YouGov Plc show that in terms of getting connected, staying connected, reliability download and upload speeds, Three is number one for iPhone customers. Three were also voted the clear winner of Best Mobile Broadband in the Mobile Today Awards 2011, in particular they were highly praised for improving speeds year on year, offering great value, a wide range of deals, and for innovation (such as being the first network to offer mobile WiFi in the UK). Three was also crowned "Best Network" and "Best PAYG Customer benefits" at the uSwitch.com Mobile Awards 2011. Previously Three was named Best Overall Mobile Broadband Provider in the 2010 Mobile Broadband Awards. According to Three's Director of Mobile Broadband, Joe Parker, "At Three we work tirelessly and invest heavily in improving the reach of our 3G services, data speeds and strengthening our network to meet growing demands and get more people across the UK connected."



Three Returns and Delivery policy

If you are a new Three customer and for some reason you are unhappy with your order, you can return your handset and original boxed accessories (including any additional free promotional or bundled items you received) along with your proof of purchase, within 14 days of receipt. Top take advantage of this offer must not have used it to make or receive calls, texts or browse the internet. All mobile phones are delivered by courier the next working day as long as you order before 4pm, orders placed after 4pm will be take two working days. Deliveries are made by courier between 8am and 6pm, someone has to be home to sign for the delivery and Three don't deliver on weekends.