The Nokia 110, 111, 112 and 113
Wednesday 16 May 2012 11 AM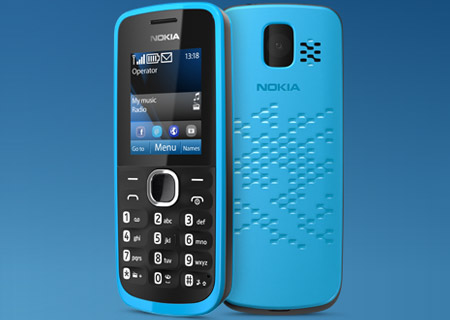 Nokia has announced a new family of basic mobile phones which the are designed to appeal to young consumers looking for a fast and affordable online experience. The new range is to include the Nokia 110, 111, 112 and 113. All phones in the range will offer access to social networking plus games and apps from the Nokia Store. According to Nokia these new phones offer an affordable internet experience due to the Nokia Browser compressing websites in the cloud and therefore consuming up to 90 percent less data.

The Nokia 110, 111, 112 and 113 all feature the same 1.8in display and they can all support up to 32GB of external memory. Other common features include a VGA camera, Bluetooth, eBuddy instant messaging, an FM radio and a minimum of 10 hours of talk time and almost a month's standby from a single charge. The Nokia 110 and Nokia 112 are both dual-SIM phones, whereas the Nokia 111 and Nokia 113 are essentially single SIM versions of the same phones. The Nokia 110 and Nokia 112 use Nokia's Easy Swap technology to allow users to quickly switch between SIMs without having to remove the battery. The estimated price for the handsets is expected to be around £28 and they will start shipping by the summer of 2012. Included in the retail price will be free access to 40 key EA Games via a gift certificate which gives 60 days to download the games of their choice, once downloaded they are free to keep.

These are budget handsets which seem to offer a wide range of entertainment, apps, social media networking and fast internet browsing wrapped up in a low cost package designed to appeal to young urban consumers. We look forward with interest to the impact these phones will have on the UK market!