Google Nexus 4 UK release today November 13, 2012
Tuesday 13 November 2012 10 AM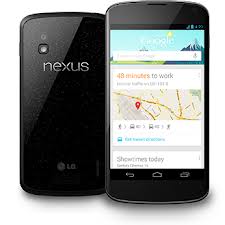 The long anticipated wait for Google phone fans has come to an end as today is the release of the Google Nexus 4. From today UK buyers will be able to get hold of the phone that everyone has been talking about. With a price tag of just £239 with an 8GB storage device, it is a mystery to many how Google have really managed to produce such a high quality product. You can also find it on some very competitive contract deals right here Google Phone contracts.
One thing is for sure, it has got Apple, Samsung and even Nokia stunned. Incorporating features such as Android 4.2, not to mention S4 Snapdragon Pro CPU. On paper, this certainly looks like the best phone in its price range. Remember, competitors with similar phones are marketing their products upwards of £400, with some breaking the £600 mark!
Essentially, even Google have admitted that this is an entry-mid level product, although the price tag makes it appealing to the masses. The range of features, and also the quality of the features is also helping to intrigue many consumers. That being said, it seems the Nexus 4 is lacking in some areas. It has minimal storage space and users will be disappointed with a lack of SD support function. Alongside this, 4G will not be incorporated.
So where does the Nexus 4 really excel? Whilst there are some areas of the Nexus 4 from Google (understandable given the price tag), other areas, it really does perform. The CPU and RAM features of the Nexus are far superior to not only the Samsung Galaxy S3, but also the IPhone 5 (more than twice the price!). Another important feature is the Power Wireless Charge function, which can be executed using any Qi-compatible charger.
So what was the aim for Google? Essentially, this is just Google hitting the market with a bang. With such an impressive launch in terms of value for money, but also with extremely high quality hardware incorporate into an overall, well built device, Google have already established solid foundations to bring in a whole array of smart phones in the future. Whilst there are phones that beat the Nexus 4 in most aspects, they are likely to set the consumer back somewhere in the region of twice the price.
It seems Google is trying to revolutionise the UK market when it comes to smart phones. Most people are under the illusion that smart phones that are sub £300 are lacking in features, design and general usability. Google has set out to prove these people wrong, helping people to understand that the experience of using a sub £300 smart phone can be a positive one!
The Nexus 4 incorporates a 4.7" screen, which performs at 320ppo; impressive. Google have managed to pack the likes of 8GB (16GB available) memory and 2GB into a phone that is just 5.27 in x 2.7 in x 0.36 in, so extremely compact and versatile, which is incredibly impressive. Weighing in at just 139g, it is definitely going to be on the short list for consumers looking for a top quality below £500, never mind below £300!