EE the new UK 4G network has just launched
Thursday 1 November 2012 10 AM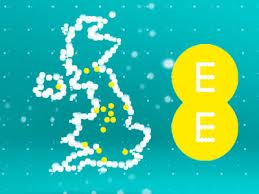 There has been a lot of hype around the launch of the new UK 4G network by Everything Everywhere, better known as EE, and now is the time to find out whether it has lived up to its claims. The 4G network went live on the 30th October in eleven of the largest cities in the UK bringing 4G potential to 11 million households. This is being expanded to another five cities by the end of the year and an ambitious rollout programme to expand coverage to 98% of the country by the end of 2014.
4G brings with it network speeds that are five times faster than 3G and this opens up a plethora of advantages for on the go usage of the internet. The 4G service will allow its customers to gain instant access to the internet download and watch films in both standard and HD format in a matter of minutes, play TV in real time without any buffering, play games live, and download any large attachments from emails even quicker.
To get started using 4G then you will need a compatible handset, a 4G SIM card and the 4G service to have been activated in your area. Six compatible handsets went on sale last month to ensure that anyone wishing to make the most of the network switch on could do so.
All of the plans that are offered by EE include unlimited calls and texts and plans are determined by the amount of data that you will use per month. Plans start out at £36 a month for 500MB of data when you opt for the 24 month plan. For the 12 month plan the monthly cost will be £46 for the 500MB data option. These plans scale up to 8GB per month of data which will cost you £56 per month on a 24 month plan and £66 per month on a 12 month plan. There is also a roaming option that will give you unlimited roaming calls and texts for an extra £5 per month.
Each monthly plan includes access to superfast 4G so that you can watch TV, stream a film or play live multiplayer games on the go. You will also be able to download a film for free every week from EE film until February 2013 and you can get 2 for 1 cinema tickets every Wednesday. If you choose a plan with 1GB of data or above, then you will also get access to over 18 million tracks to either stream or listen to when you are offline through your phone.
There are some that feel the monthly tariffs are steep for a mobile service, but when that service provides broadband at speeds that are faster than most home broadband services perhaps this is understandable. It is worth noting that initially the load on the network will be light and that as that load increases speeds will decrease, but you can guarantee that the speeds will still be significantly faster than current 3G networks.