Best 4G Phones in the UK at the moment
Friday 7 December 2012 12 PM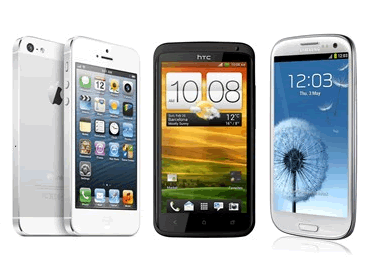 With Everything Everywhere rolling out 4G in UK, it will be interesting to note which phones will make it to the markets in UK, duly supported by the 4G technology. There is a likelihood that phones which are offered in US, Australia and Korea, which put 1800MHz to use similar to that offered by Everything Everywhere, will be offered in UK as well. However, these phones will be slightly tweaked versions of the ones sold in the US markets as not all of them will be compatible with the 4G spectrum offered by Everything Everywhere.
HTC One X LTE: See HTC Phones

Considering how the phone has received positive reviews all over, there is a possibility of AT&T releasing an LTE supported version of the phone that runs on the 1.5 GHz Qualcomm chip dual-core processor. The phone will also offer 1 GB RAM and 16 GB of internal storage space.
Samsung Galaxy S3 LTE: See Samsung Phones

The version of the Galaxy S3 available in US markets right now runs on a dual-core processor, already supporting the LTE technology. However, there are chances of Samsung introducing a version in Korea which will run on a quad core processor, indicating to the likelihood of one such version with a 1.4 GHz A9 CPU, 2GB RAM, 16 GB internal storage space and a 2100 mAh battery, being introduced in the UK markets as well.
Nokia Lumia 900: See Nokia Phones

The version of Nokia's Lumia 900 currently available in the UK markets is identical to the one available in the US markets. The only difference is it does not support the 4G technology yet. Therefore, users will have to switch to a different handset incorporating an advanced chipset to utilize the 4G technology. That done, the phone is an apt pick for users who are looking for an experience of the Windows Phone platform at a cost which is a lot cheaper than the ones offered by other competitors.
LG Optimus 4X HD: See LG Phones

Once appropriately supported by fast network coverage, this phone has immense potential. Backed by a quad core processor, the phone offers 16 GB internal storage space, a 720p touch screen and an 8 megapixel camera. After incorporating the 4G technology in the new 4X HD versions of the phone available in the UK markets, LG can hope to pump up the sales of this smartphone.
Motorola Razr: See Motorola Phones

The Maxx version of the phone is already a winner, with its 3100 mAh battery that is sufficient enough to support all browsing activities on 4G. Lacking in a HD screen or a quad core processor, cost wise, the phone is as good as a 4G supported Android device.
Apple IPhone 5: See Apple Phones
This has to be the very best 4G phone on the market in our opinion, apple produces quality phone each and every time. Getting hold of one has been hard since its launch due to set back but looking into the New Year there should be no more issues.
These phones can be purchased online right now with amazing deals from all the UK networks. If you are looking for a contract phone with guaranteed acceptance on these you will have to wait some time as the price range and demand on these phones are high.